ABOUT US
"What the Son Takes Pains to Forget, The Grandson seeks to Remember"
The group's focus is Lincoln County, Wisconsin and it's communities and townships including Bloomville, Bradley, Dudley, Gleason, Harrison, Heafford Junction, Irma, McCord, Merrill, Pine River, Rock Falls, Spirit Falls, Tomahawk, Tripoli.
Welcome to North Pines Genealogy Group
We are happy to have you join us in the search for yoour "roots". Genealogy is an exciting and rewarding hobby. We have all been involved in researching our families and have experienced the joys and excitment of finding a long lost relative or a vital piece of missing information. As a group, we hope to ease some of your frustrations by sharing what we have learned along the way, thus making it worth your time and involvement in becoming a member of the North Pines Genealogy Group.
As a member of this unique organization you will be able to benefit in many ways. Some of them are through group support, free queries, seminars and workshops, surname file, surname booklet, quarterly newsletter's and much more.
Our quarterly newsletter "North Pines News" contains information on meetings, queries, informative articles, member biographies and upcoming events, just to name a few. The newsletter can be sent to a researcher's specific area of interest by request. We also exchange newsletters with a number of other genealogy groups.
Our monthly meetings are held the 3rd Thursday of the month, unless otherwise specified. Meetings are held at the T. B. Scott Library in Merrill. Many of our meetings are "research trips". This gives members an opportunity to work on their research in a group setting, thus the opportunity to benefit from the "expertise" of members with more extensive research experience.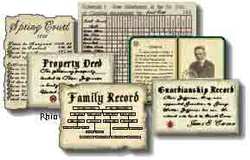 Ancestor Charts and Surname Index
Please fill out your Ancestral Charts and Surname Index Cards and return them as soon as possible. North Pines Genealogy Group has kept a Surname Index file for many years. Whether a new member or returning, it periodically needs updating. Below is a sample of the type of information that is requested. The Surname Card File box is located in the History and Genealogy Room, 3rd floor, T.B.Scott Library.It is available for individual use. This has the potential to connect you with individuals who are also searching similar surnames and areas. Either bring to a meeting or mail to North Pines Genealogy Group, P. O. Box 132, Merrill, Wisconsin, 54452. Attention: Surname Chair